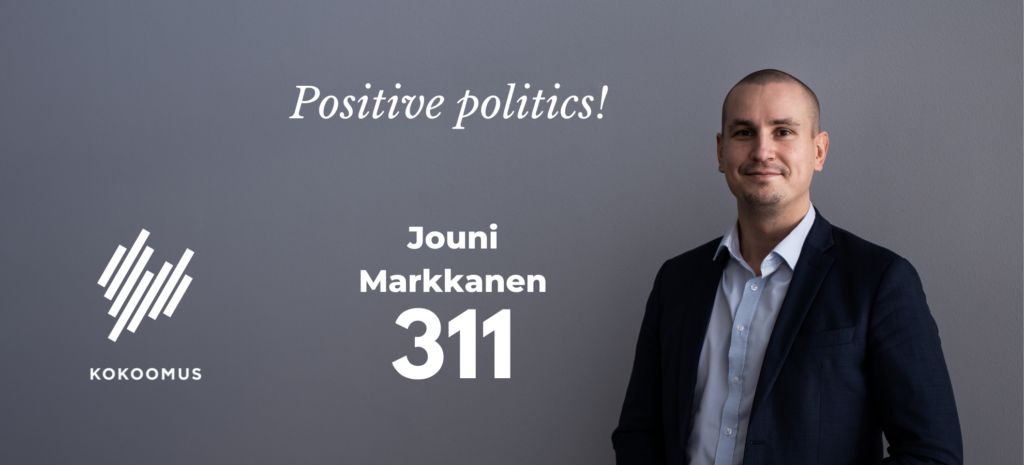 Hi!
I´m Jouni Markkanen and I´m running for my third period in the Tampere City Council. My Tampere is open and International. What I can give is knowledge and contacts to make digital transformation happen in Tampere. We have a great opportunity to make Tampere one of the leading hubs in public AI and I want to work for that!
I am also working to build Tampere to be the happiest city to live. We can make it happen when increasing equality, making sustainable choices and building Tampere to be better place to have a company. I believe in collaboration with all level experts and parties and try to do decisions always with the best knowledge.
I´m working for National Coalition party and one of my responsibilities is digitalization on National level. The favorite part of my job is work with tietopolitiikka.fi -group. There one of my responsibilities is leading project about Information and Technology Policy. You can check more from our webpage.
In Tampere I'm the chairperson of the National Coalition Party. I´m also one of the founding members and former President of the JCI United, the only International JC chapter in Finland. If you don´t know yet, what JCI United is, you should check it out!
You can read more about my thoughts from YLE Election Compass 
 If you are interested about my CV, check my LinkedIn
You can also ask me anything by sending me a message (jounimarkkanen@gmail.com) or calling me +358405429514!